$695.00

Gallipoli Death Plaque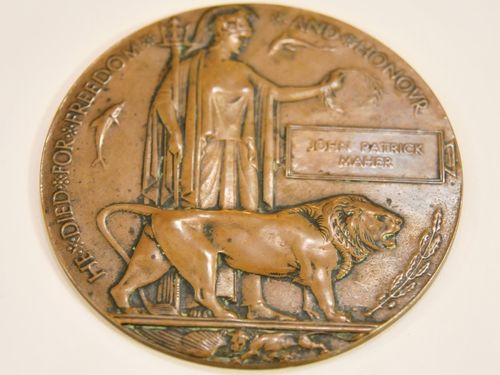 Product:
Gallipoli Death Plaque
Price:
$695.00
Material:
Bronze
Period:
WW1 1914-18
Origin:
Make:
Size:
12 dia cms
Condition:
Excellent
Additional Comments:

Issued in the name of 'John Patrick Maher' who was killed in action at Gallipoli on 6th August 1915, and is buried in Lone Pine Cemetery, Gallipoli. His service number was 79, and he served in the 4th Australian Infantry Battalion. The number behind the back leg of the lion is '5' so it is a very early medallion. These medallions are also known as a 'Dead Man's Penny'.
SOLD: 7 August 2014
This item has been sold but we may have something similar available for sale that is not listed on our web site - please contact us to discuss.