News & Media
Ipswich Antique Centre appears in latest Tourism Booklet
15 March 2014
The latest Brisbane Tourism Booklet "Get out and explore Brisbane's backyard - Give me Brisbane Any Day" lists Ipswich Antique Centre as having an "enormous collection".
Listed in the feature panel titled "Treasure Hunting - Brisbane's backyard is an absolute trove for antique gems and handmade treasures", Ipswich Antique Centre (with our range of antiques and collectables clearly impressing the authors!) was featured alongside other antiques, collectables and art establishments within South East Queensland, located close to but outside of the Brisbane Metropolitan Area:
Samford Valley Antique and Vintage, Samford
Bayside Antique and Collectables Centre, Cleveland
The Dayboro Shed, Dayboro
Ipswich Antique Centre, Ipswich
Cuckoo Clock Nest, Mt Tamborine
The Collective Store, Wynnum
Drift Handmade Treasures, North Stradbroke Island
Two Create, Aratula
Palliaor Antiques, Esk
If you are interested, you can see our page on the Visit Brisbane web site - Visit Brisbane - Ipswich Antique Centre (http://www.visitbrisbane.com.au/ipswich/things-to-do/shopping/ipswich-antique-centre).
Also see the Visit Brisbane Booklet, with the page listing Ipswich Antique Centre: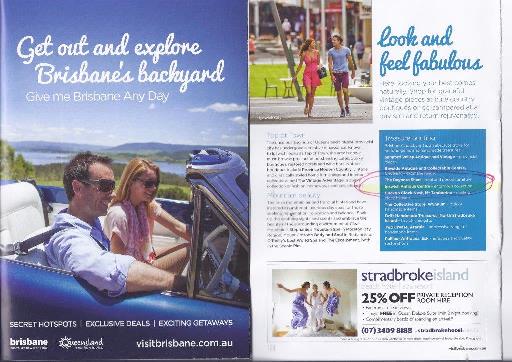 Our thanks to Brisbane Marketing, Tourism and Events Queensland, and the City of Ipswich for our inclusion in this fantastic local tourism booklet.